Institute of Sport Exercise and Health
Cutting-edge research and clinical practice for elite and amateur sportspeople
Mon | Weds | Fri
8am - 8pm
170 Tottenham Court Road
London
W1T 7HA
Welcome to Institute of Sport Exercise and Health
A legacy of the 2012 Olympic Games in London, Institute of Sport Exercise and Health (ISEH) was formed with the purpose of providing you with exceptional standards of sports and musculoskeletal medicine, previously only available to elite sportspeople. Our centre offers easy access to cutting-edge research, outstanding clinical practice through a world class multidisciplinary team of consultants and clinicians.

We can provide you with accurate diagnoses and personalised comprehensive treatment plans, formulated by the very best academic research, within an exceptional purpose built clinical facility. With access to the Princess Grace Hospital, so you can be assured that all your sports medical, clinical and surgical needs will be in the best hands.
How do I get an outpatient appointment?
To be seen at the Institute of Sport Exercise and Health, you require a medical referral. Our GPs are providing medical guidance, including referrals, via virtual consultations.

Once you have your referral, call 020 3447 2801 to book an appointment.

Care continues: Institute of Sport Exercise and Health is open
We are open for outpatient care for patients who have a referral from their GP or consultant.

Care continues and it is important to seek medical help if you have a health concern. Your GP or consultant will be able to refer you for onward care at one of our outpatient centres if you need to be seen urgently.

As we welcome you to our hospitals and healthcare centres, we are committed to ensuring we are proving the safest places for care.
ISEH has a positive, vibrant buzz about it that not only helps our players feel they are in the right place, but also makes me feel at home when they're dealing with my old rugby injuries!
Peter Tom CBE, Executive Chairman, Leicester Tigers
Our sports expertise
Our multidisciplinary experts are on-hand to provide you with the latest expert opinion, diagnosis, treatment and ongoing management for all acute and chronic musculoskeletal conditions.
We can accommodate urgent referrals and offer next day appointments to suit your schedule. You don't need to have a sport or exercise-related injury to be treated at ISEH.

Your doctor or clinician might refer you if have a musculosketetal injury for example a strained muscle or soft tissue damage. You can also refer yourself to many of our services.
We have brought together a wealth of experienced consultants and clinicians, many with extensive experience in providing treatment to a range of top-flight sports teams, including:
Complex sports concussion clinicians & neurologists

Musculoskeletal & neuro radiologists

Sports & exercise physicians

Experts in musculoskeletal injuries & complex conditions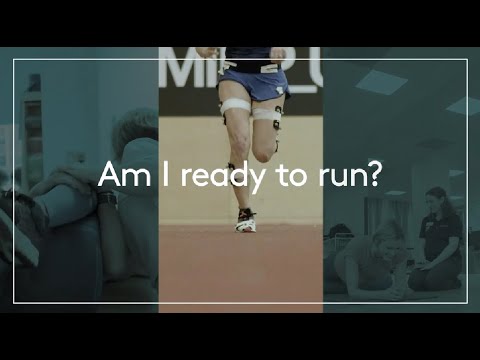 Improving your Marathon performance
Is it possible to just start running? Can we really go from couch to 5K while staying healthy? 
Jenni Falconer talks to the Dr Ade Adejuwon at ISEH
Do you want to start running a 5k, 10k or a marathon, can you improve your performance when it comes to running and exercise. The ISEH has a Pre-Participation Fitness Evaluation, which look at your current fitness including muscle strength and balance
Unrivalled sports diagnostic services
Through our high quality imaging centres we can provide you with the very best diagnostic services for all musculoskeletal sports injuries. Including including a 3T MRI scanner.

Q&A with James Hull - consultant respiratory physician at the ISEH
James describes how he is currently helping patients who are struggling to return to sport after recovering from COVID-19.
Innovative treatment options for athletes
Our research and academic links allow us to challenge sports medicine and push the boundaries when treating all musculoskeletal injuries.
Our treatment options encompass some of the very latest and ground-breaking advances medicine has to offer.
Changing sports medicine
Our partnership with UCL and UCLH give you unparalleled access to a world-class university and rage of hospital partners, with more than 1,000 clinical project running at any given time.
We also hold UCL Masters programmes in Sports, Medicine, Exercise and Health and Performing Arts Medicine. Further strengthening the links between academic research and clinical practice.
ISEH is a collaboration between HCA UK,
University College London
,
University College London Hospital NHS Foundation Trust
,
The English Institute of Sport
and British Olympic Association.
170 Tottenham Court Road
London
W1T 7HA
You'll find us on Tottenham Court Road, Central London next to University College London Hospital (ULCH)
How we work with doctors
We're proud to work with leading consultants who choose to practice in our facilities and provide us with advice about clinical quality.
Contact

ISEH

Any questions? Get in touch and we'll be happy to help.