A cardiac centre of excellence in the heart of London
Our specialist cardiac centre offers a vast range of treatment options, from screening and diagnosis of common conditions such as coronary artery disease, to minimally invasive procedures such as inserting stents and pacemakers, as well as offering highly specialised surgeries such as minimal access mitral valve repair.
As well as offering all aspects of adult cardiac care, we hold close links to
The Portland Hospital
, the UK's only private paediatric cardiac hospital, to ensure that children suffering from congenital heart defects can access seamless and integrated care as they get older.
Why choose The Harley Street Clinic?
Care rated 'Outstanding' by the Care Quality Commission

A partnership with The Portland Hospital to provide complete lifelong care for congenital conditions

Internationally renowned and respected cardiologists and cardiothoracic surgeons

MDT meetings well-attended by a range of experts in cardiac care

A Level-3 intensive care unit on site

Clinical nurse specialists, dedicated to each field of cardiology and cardiac surgery

The latest imaging and diagnostic equipment, including low dose cardiac CT scanners

Access to pioneering technologies and treatments
Endoscopic keyhole cardiac surgery
A minimally invasive procedure to treat a wide variety of heart valve conditions, coronary artery disease, PFO and Atrial Fibrillation. Due to a smaller incision, it allows for less scarring, faster recovery time and less complications for patients.
Our leading consultant in endoscopic cardiac surgery, Mr Toufan Bahrami, has performed over 1,500 minimal access cardiac surgeries.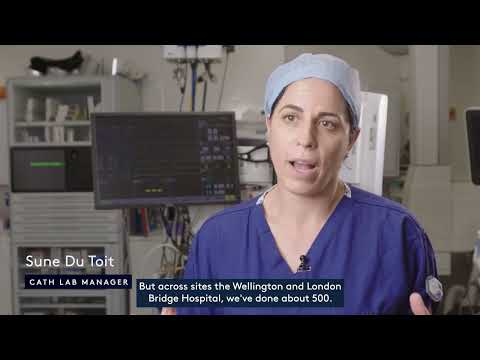 TAVI: minimally invasive treatment for aortic stenosis
TAVI, or transcatheter aortic valve implantation, is a minimally-invasive procedure used to treat aortic stenosis. By using a small catheter, the team can replace a damaged aortic valve with an artificial one and avoid the need for open heart surgery.
Cardiac tests and scans
The Harley Street Clinic's team of consultants can investigate and identify heart problems and diseases early, and determine the most suitable treatment options available for heart disease.
It aid these investigations we offer a wide range of cardiac tests and scans on an outpatient basis, and patients can come in for multiple tests in one day to minimise trips into hospital.
Our treatments
Once you've achieved a clear diagnosis, The Harley Street Clinic offers a wide range of treatments options for cardiac conditions.
Cardiac conditions and their treatments
About us
The Harley Street Clinic is world renowned for being at the forefront of complex cardiac care for over fifty years.
More about our cardiac department
Our teams
Patients benefit from the highest possible level of care from our expert consultants and highly-skilled nursing teams.
More about our cardiac teams
Q&A with Oliver Segal
Oliver Segal, consultant cardiologist and electrophysiologist at The Harley Street Clinic, tells us why more people are being diagnosed with atrial fibrillation, the ease at which we can now monitor heart rhythms and how important it is that those with a heart concern come forward and see a medical professional immediately.