Why choose us?
We're one of the largest standalone private IVF units in the UK and since we opened in 1988, over 18,000 babies have been born from treatment with us. Our success rates are consistently among the best in the country. Our multi-disciplinary team provides a holistic approach to investigating and treating a wide spectrum of fertility problems, supported by the best medical and scientific services available in the field. If you have the potential to succeed we'll provide you with tailored treatment according to your specific fertility needs, even if you've been declined fertility treatment elsewhere.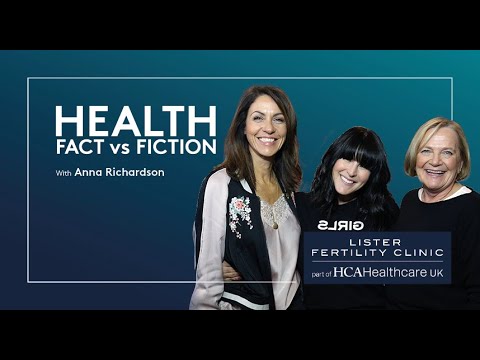 Health Fact vs Fiction Understanding your fertility
In episode 12 of HCA UK's 'Health Fact vs Fiction' podcast, host Anna Richardson chats with Dr Marie Wren, deputy director of the Lister Fertility Clinic and TV presenter Julia Bradbury.
They discuss the ups and downs of trying for a baby, IVF, and how we can all become more fertility aware.
Listen to Understanding Your Fertility now on:
Celebrating 30 years of The Lister Fertility Clinic
Our specialties
We offer a comprehensive range of fertility treatments, including IVF, egg freezing, egg sharing and more. We're also specialists in treating low ovarian reserve — if you have a chance of success, we will treat you.
Need to know

We provide a holistic approach to investigating and treating fertility problems. Even if you've been turned away elsewhere, we give you all the information you need to make decisions about your treatment. And if you have a chance of success, we let you know. Many of our patients successfully start...
Chelsea Bridge Road
London
SW1W 8RH
The Lister Fertility Clinic is based at The Lister Hospital in London and has five satellite clinics
Lister Fertility Clinic at The Shard
The Shard, St Thomas Street, London SE1 9BS
Jersey Fertility Service
The General Hospital, St Helier, Jersey JE1 3QS
Poundbury Fertility Clinic Dorchester
Middlemarsh Street, Poundbury, Dorchester DT1 3FD
Thames Valley 
Spire Thames Valley Hospital, Wexham Street, Wexham SL3 6NH
Poundbury Fertility Clinic London
King Edward VII's Hospital, Beaumont Street, London W1G 6AA
Lister Fertility Clinic at Elstree Waterfront Outpatients
HCA UK at Elstree Outpatients and Diagnostics Centre, Beaufort house, The Waterfront, Elstree, Borehamwood WD6 3BS
Contact

us

Any questions? Get in touch and we'll be happy to help.