Welcome to the Endoscopy Centre
In our Endoscopy centre, we offer screening for bowel cancer or diagnosis and treatment for diseases that affect the digestive system, including the oesophagus, stomach, colon and rectum. For example, some of our consultants specialise in endoscopic examination of the small bowel and of the pancreatic and bile ducts. If your case is complex, they'll discuss your diagnosis and treatment plan with many other clinicians. It's their combined skill and judgement that delivers the best outcomes for patients.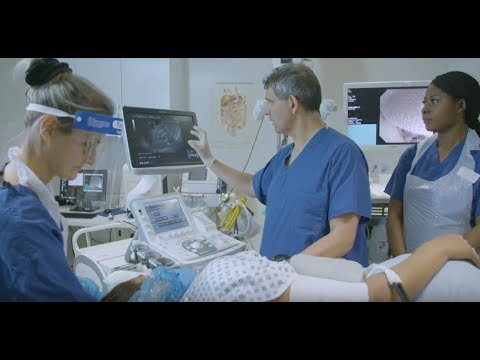 Discover more about our Endoscopy Centre – Watch our video
"Our facilities include the latest advances in endoscopic equipment to support the prevention, diagnosis and treatment of disorders of the pancreas, liver, gallbladder, oesophagus, stomach, small intestine and colon."
Find out more about our endoscopy centre in this video.
Identifying and treating gastrointestinal problems
Personalised patient care
No patient is the same, and therefore no treatment plan should be the same. Our strength lies within the excellence of our clinical teams; we have an exceptional team of consultants and nursing staff whose skills and experience enable us to provide seamless, bespoke, multidisciplinary care for all our patients.
When you are a patient in our Endoscopy Centre you will have a dedicated consultant who will always follow you through your treatment with us. If you have any additional questions, you will be fully supported by our clinical nurse specialists.
Rapid diagnosis supported by expert radiologists
We work with some of the finest radiologists in the country. Our diagnostic potential is only as good as our clinicians which is why we are proud to be supported by some of the UKs leading radiologists. There are no waiting lists and you will normally have your report the same day.
Using the latest endoscopic techniques
Within our centre we have a large team of dedicated endoscopy nurses and colorectal clinical nurse specialists, who help each patient through their procedures and treatment with us.

We pride ourselves on providing first-class patient care and comfort.

Our endoscopy centre, for example, has 12 specially designed individual recovery bays. The majority of these cubicles are ensuite, increasing privacy, cleanliness and comfort for our patients.
Diagnostics and imaging services at The Wellington Endoscopy Centre
Our advanced imaging suite provides a range of services, to take you seamlessly from consultant to diagnosis. You can book an appointment to suit your schedule from Monday to Friday, 8am to 8pm, and results are usually available within 24 hours. We can also offer Saturday appointments. Because we are based within an acute hospital with imaging services available in all of our facilities across our campus in St Johns Wood, patients who require immediate imaging, be that MRI or CT, can be seen same day in either the North building, South building or Platinum Medical Centre. 
Our diagnostic and imaging services include:
• Ultrasound • CT • MRI • CT Scan • X-ray • Fluoroscopy • Fibroscan • MRCP • CP Pneumocolon • TIPS • Vascular intervention •
Referrals to the centre
To book an appointment please call 020 3214 3420
For Endoscopy GP referrals click here to download our GP REFERRAL FORM and email endoscopy.wellington@hcahealthcare.co.uk

Procedure results will be sent to the referring GP
Referrers can directly refer patients to a specific named consultant
All patients with private medical insurance will need a referral from their GP to gain authorisation from your insurance company
Self-funded patients do not need to have a referral letter to book a consultation
21 Wellington Hospital
St Johns Wood
London NW8 9SQ
The Endoscopy Centre is based at The Wellington Hospital's central facility in St Johns Wood, London.