Pioneering technology
The Princess Grace Hospital is the first private hospital in the UK to offer robotic orthopaedic procedures for patients requiring joint replacements, such as total and partial knee or hip replacements, by utilising the MAKO Robotic-Arm Assisted system
The robotic technology we have now gives us the opportunity to deliver something very specific to each individual patient.
Professor Fares Haddad
Consultant Orthopaedic Surgeon
What is robotic joint replacement surgery & how can Mako help
The Mako Robotic Arm can help world class surgeons perform complex hip and knee surgeries where patients feel less pain, have quicker recovery, gain better motion and function, and over time have fewer revisions than standard hip and knee replacement surgeries.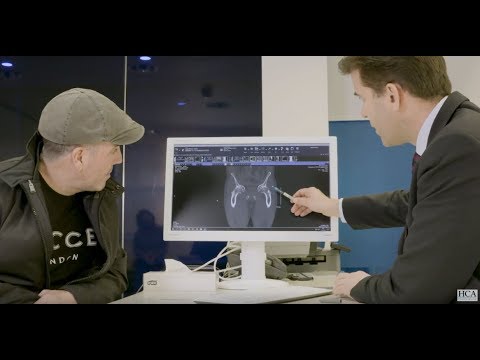 Being able to walk again, pain free: Martin's story
Martin describes how his Mako Robotic-arm surgery helped to get his life back on track. After struggling for years with the simplest day-to-day activities like walking. Martin visited The Princess Grace Hospital in the hope that we could help with his diseased hip.
What is Mako?
The Mako robotic surgical system is used at The Princess Grace Hospital for partial and total knee and hip replacements. It allows for a much more accurate placement of your implants compared to more traditional joint replacement methods, meaning that you will have a more natural feeling joint post-op.

The benefits of using the Mako includes fewer complications, less pain and faster recovery times, restoring confidence in your mobility and helping you to return to your active lifestyle sooner. The lifespan of your implant should also be increased as more accurately positioned implants last longer.
Discover more about Mako robotic-arm surgery 
Contact us
Call us to find out more about the Mako Robotic Arm-assisted system.  Appointments will require a GP referral.