Opening hours: Monday - Friday: 8am - 8pm
Care continues: London Digestive Centre is open
We are open for outpatient care for patients who have a referral from their GP or consultant.

Care continues and it is important to seek medical help if you have a health concern. Your GP or consultant will be able to refer you for onward care at one of our outpatient centres if you need to be seen urgently.

As we welcome you to our hospitals and healthcare centres, we are committed to ensuring we are proving the safest places for care.
How do I get an
outpatient appointment?
To be seen at the London Digestive Centre, you require a medical referral. Our GPs are providing medical guidance, including referrals, via virtual consultations.

Once you have your referral, call 020 3811 5715 to book an appointment.

Welcome to London Digestive Centre
The London Digestive Centre specialises in treating all gastrointestinal (GI) conditions and digestive health problems. So whether its stomach aches, vomiting, irritable bowel syndrome, reflux disease haemorrhoids or functional gut disorders, the London Digestive Centre is able to diagnose the most common to the more complex conditions. Our consultants are known throughout the world in the field of gastrointestinal medicine, they work within a multidisciplinary setting, meaning they collaborate with the very best GI experts, oncologists, radiologists, dieticians and other clinical experts to give you the best personalised treatment and management plan for your diagnosis.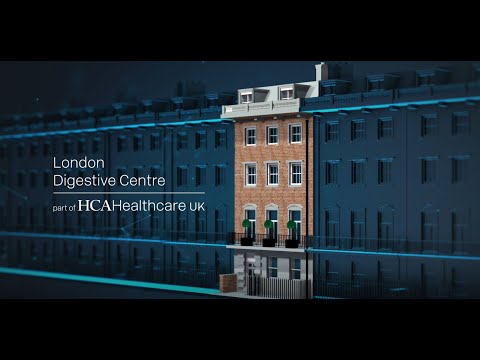 London Digestive Centre - Specialising in all GI conditions & digestive health problems
London Digestive Centre rated outstanding by CQC
London Digestive Centre, part of HCA Healthcare UK, has been rated 'Outstanding' by national regulators the Care Quality Commission (CQC).
Services offered at the London Digestive Centre
Gastrointestinal health
Our consultants can help with all gut and digestive health problems including irritable bowel syndrome (IBS) and inflammatory bowel disease (IBD).
Endoscopy services
A full range of tests and procedures is offered including gastroscopy and colonoscopy to help with the diagnosis and treatment of your condition.
Ears, nose and throat expertise
Our comprehensive service for the treatment of ear, nose and throat (ENT) conditions include hearing and imbalance disorders, head and neck surgery, thyroid and nasal problems.
Clinical radiology
The advanced imaging suite offers a range of services offering patients care, from consultation to diagnosis. Rapid access screening for the majority of cancers is offered with results typically available within 48hrs.
Diagnostics
With our dedicated Endoscopy Centre, appointments can be booked Monday to Friday, 8am to 8pm, with results available within 24 hours. Our quick screening programme means you can be seen, screened and have a consultation all in the same facility.
Multidisciplinary teams
A multidisciplinary team (MDT) of consultant physicians, surgeons, radiologists, oncologists and clinical nurse specialists convene regularly to review and assess complex conditions. This way, we successfully find the best possible treatment and management solutions for our patients.
Diagnostic imaging 
Our advanced imaging suite offers a range of services so we can offer our patients seamless care, from consultation to diagnosis.  3T MRI, DEXA scanner, advanced CT and Tomosynthesis, we can offer rapid access screening for the majority of cancers with results typically available within 48hrs.
With this integrated approach to digestive healthcare, we're able to ensure patients get the care they need as soon as possible. As consultants, we are able to cross-refer to each other when appropriate, and being in one location means that we can liaise with each other efficiently
Prof. Ameet Patel, Consultant general surgeon and medical director of London Digestive Centre
Our consultants
We're proud to work with leading gastrointestinal specialists who are experienced in diagnosing and treating a range of conditions of the upper and lower gastric system, including the oesphagus, stomach, bowel and colon.
Why choose The London Digestive Centre?
96%
of our patients would recommend us to family and friends.*
*LDC patient satisfaction survey
41 Welbeck Street
London
W1G 8DU
London Digestive Centre is located at 41 Welbeck Street in Marylebone, W1. Its central London location can be reached via Bond Street, Baker Street and Regent's Park tube stations. And Marylebone mainline station.
The independent regulator of health and social care in England
Request

an appointment

If you would like to arrange an appointment at the London Digestive Centre, you can call or submit an enquiry form.