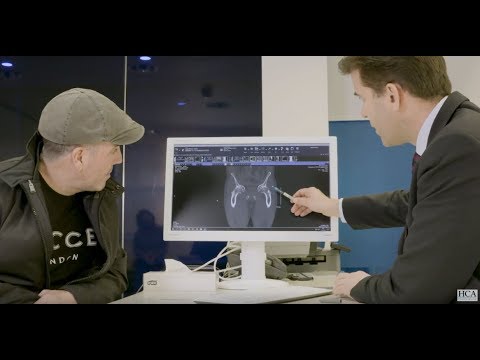 Living with joint pain
Joint pain can be debilitating. One of the main causes of joint pain being arthritis where the joint cartilage is destroyed leading to significant discomfort and pain during daily activities. Conditions such as arthritis, rheumatoid arthritis and osteoarthritis occur when the joint becomes inflamed. This can cause extreme pain for the individual experiencing it, and sometimes prevent them from carrying out everyday tasks.
Mako robot - a groundbreaking treatment for joint replacements
At The Lister Hospital, part of HCA Healthcare UK, we continually invest in the latest medical technology to ensure our patients receive the highest standards of care at all times.
This ethos is crystalised in our recent introduction of the
Mako robotic arm
– a pioneering piece of equipment which helps our renowned surgeons carry out complex hip and knee joint replacements, in such a way that is completely tailored to your individual needs.
The Mako robot is the best example of cutting-edge technology being translated into surgical practice aiming to ensure high accuracy and improvement in the functional outcomes of patients undergoing hip and knee replacement surgery.
Panos Gikas, Consultant orthopaedic surgeon
Innovative treatment, personalised surgery
Compared to more traditional joint replacement methods, the Mako robotic surgical system allows for a far more accurate placement of implants - promoting a more natural feeling in the long term for your joints.

To achieve this, our leading specialists at The Lister Hospital will provide you with a completely personalised treatment plan, including a pre-operative CT scan of your diseased joint. During your procedure the Mako will guide our surgeons within your pre-defined treatment area, enabling them to remove only the diseased part of the bone, preserving your healthy bone and tissue areas.
Rapid recovery times
A clear benefit of the modern Mako technique is the faster recovery times it leads to for patients. We support this at The Lister Hospital by creating an in-depth aftercare plan for you before you undergo surgery, with our consultants and physiotherapists agreeing set goals you wish to achieve after having your joint replaced.
These goals are reviewed when you attend a pre-arranged follow-up appointment, where through a relaxed discussion and new X-ray scans our consultants can assess your progress and how the new joint implant is working for you.